Studio Pass Patron Subscription
You need a subscription to access this page.
This page can only be accessed by subscribers to the VIP and higher tiers. Subscribe now to get access.
Welcome to my Studio Pass Patron Subscription, an exclusive place where you can connect with me on a deeper level and receive value-packed content! Please watch the short, welcome video above and consider becoming a subscriber. Your monthly support will help me develop as an artist and share the full scope of my artistic expression with you, a special member of our online community.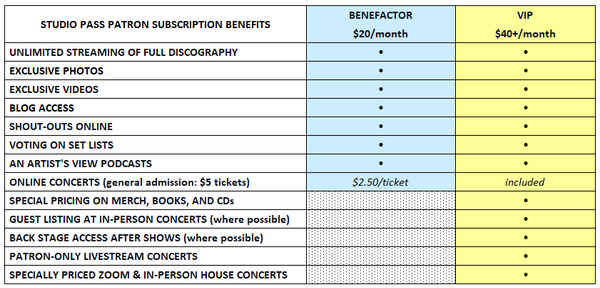 When subscribing, you may choose from the two subscription tiers and rewards shown above. There's even the opportunity to give Studio Pass Patron Subscriptions to others as gifts!
Flexibility, diversified content, and entertainment presented in an inclusive format sums up why I'm excited and what you'll find in this exclusive space.
I truly look forward to your joining my journey in Studio Pass!